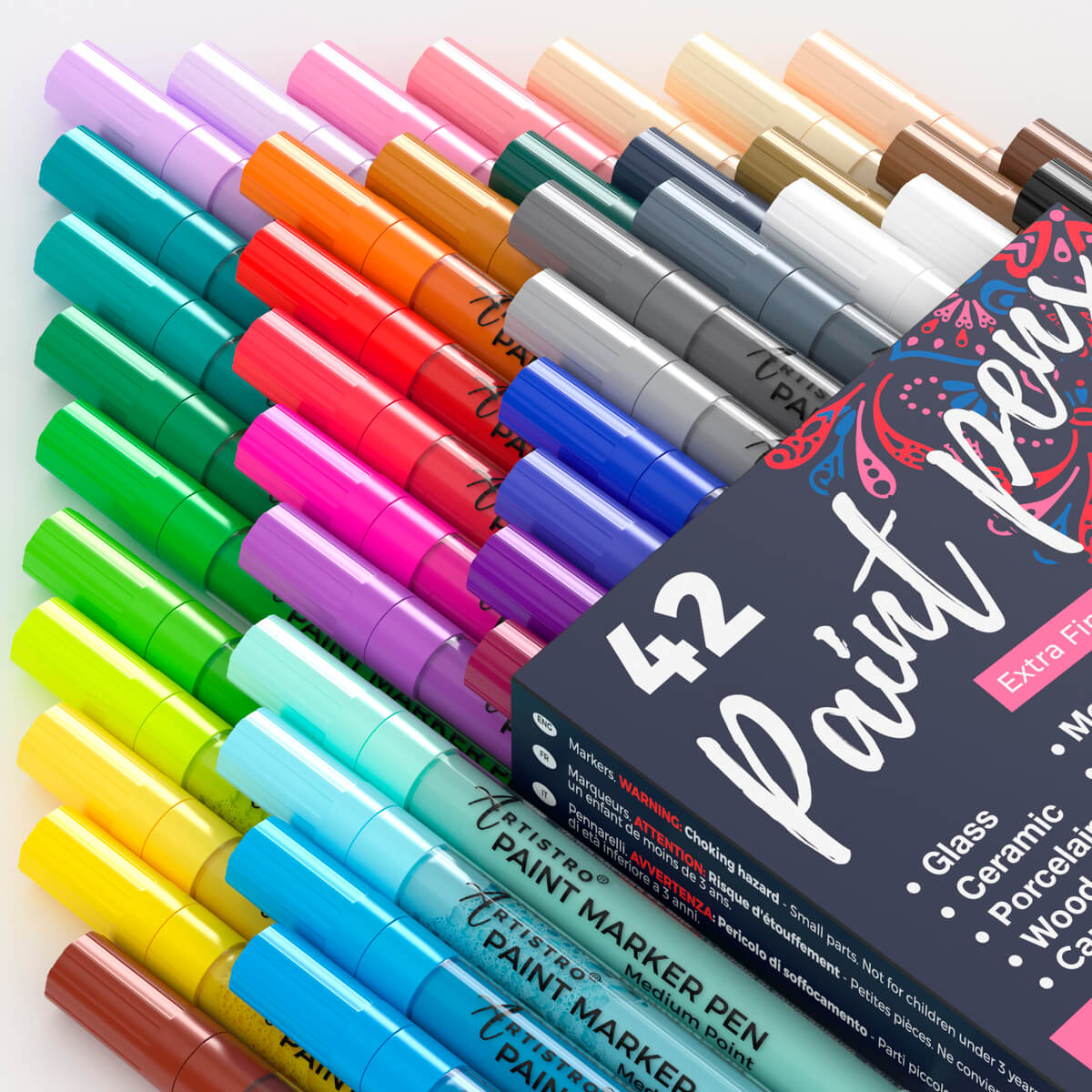 Extra Fine Tip acrylic markers - Set of 42 thin markers
42 EXTRA FINE MULTICOLOR acrylic markers  

Excellent gift packaging. Another nice bonus of this set of acrylic markers is the attractive packaging. This set of acrylic pens looks elegant, but at the same time attractive and festive enough to be a good gift for your creative friends and relatives who love rock painting markers.
Great acrylic pens for precision work. Fine acrylic markers with a 0.7 mm tip are great for detailed work, hatching, creating delicate items. These thin markers are designed specifically for delicate tasks and work that requires attention and precision. If you want to create a delicate drawing with lots of detail, acrylic pens are exactly what you need.
Work on almost any surface. These acrylic pens give you unprecedented creative freedom. Try to create paintings on ceramics, wood, textiles, plastics and even rocks with our acrylic pens for rock painting.
Italian non-toxic acrylic ink. Highly pigmented ink provides even flow and excellent coverage of our acrylic markers. In addition, acrylic pens dry very quickly: 1 minute is enough for the current layer of thin markers to dry, and you can continue your work.
Colors included: multicolor acrylic markers  

Pen Tip: Extra Fine (0.7 mm)
Ink Base: Acrylic
Ink Color: Multicolor
Number of Pieces: 42
Suitable for: Paper, Rocks, Glass, Stone, Metal, Smooth Wood, Plastic, Polymer Clay, Ceramics
Customer Reviews
title
these pens work great. some don't have enough pigment to show up on dark surfaces, and sometimes they take a long time to warm up to get the the color, but they overall work well.
07/02/2022
Terri L.

United States
Great Variety
These pens work very well & good variety of colors. Depending on surface, you may need more than one coat. (Rocks!)
01/22/2022
Marie-Eve

Canada
Bon marqueur
Bon marqueur de peinture que j'ai utiliser sur bois. Livraison rapide. Je recommande
01/20/2022
Rowland

United States
Extra fine point makes painting asoooo much easier
Perfect choice for rock painting
01/20/2022
Kiran W.

United States
My daughter loves them!
Bought these for my older daughter for Christmas and she loves them! Now my youngest wants some. Guess I have to order more. Lol
40 TRENDING COLORS + EXTRA BLACK & WHITE