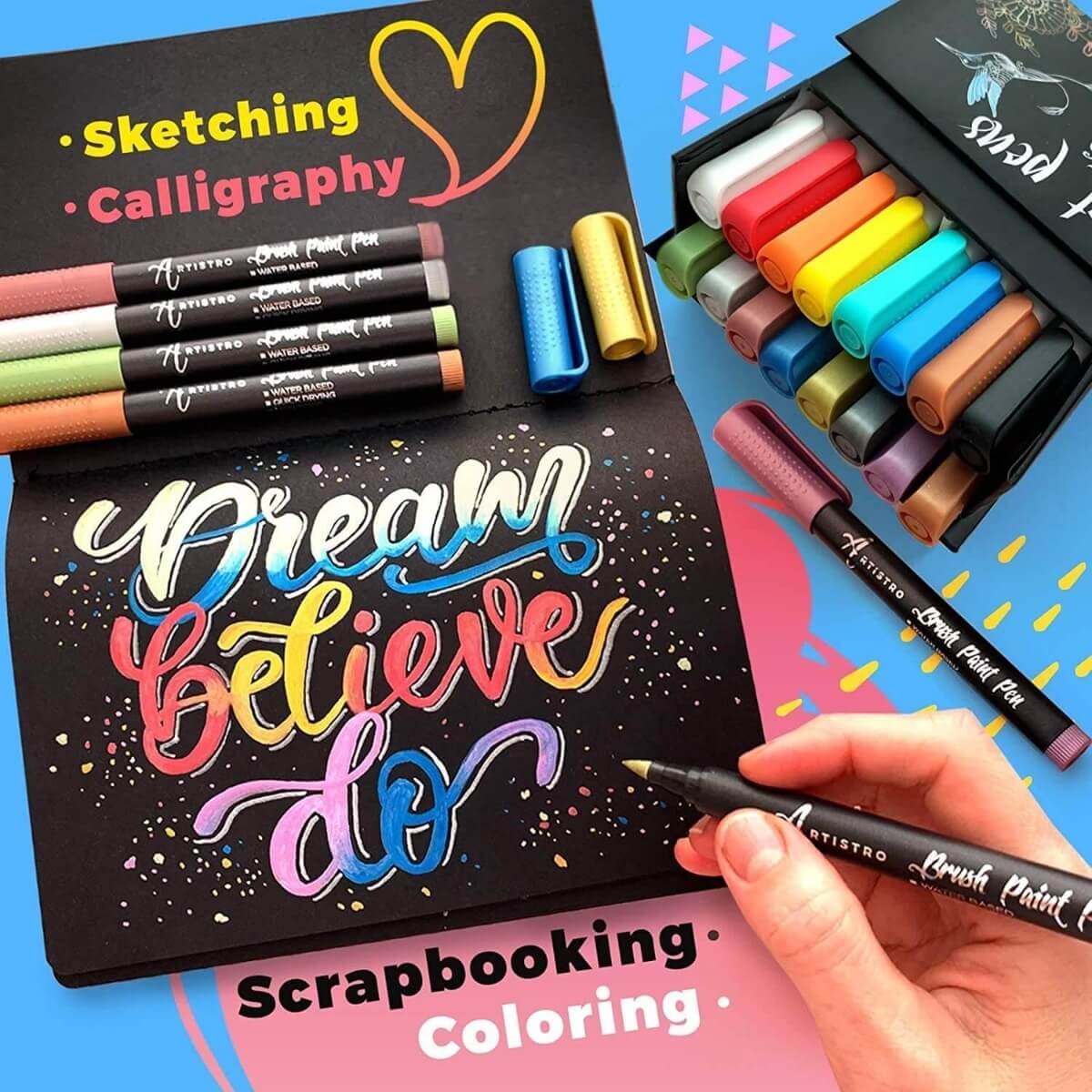 Brush tip paint markers - Set of 16 paint brush markers
16 MULTICOLOR paint brush markers

Multitask brush markers. Paint brush markers have the special type of nib. The flexible soft nylon tip works as a brush marker and as a standard tip depending on the need. According to your desire, paint brush markers are able to create an extra-fine, thin, medium, and even thick line. In addition, paint brush pens are perfect for calligraphy and lettering, as they are able to change the thickness of the line instantly right in the process of work, without interruption or making a glut at the junction.
Most desired colors. In this set of brush markers we have included your favorite colors: 8 base and 8 metallic paint brush markers. The metallic brush markers provide an amazing artist experience on dark surfaces. Enjoy stunning effect of brush tip paint markers and play of chiaroscuro on an all-black background, where colors appear brighter and richer, emphasizing the intricate details of your artwork.
Beautiful gift box. This set of paint brush markers has a beautiful box and is convenient for storage. The festival look of the set of paint brush pens makes it a great gift choice; adults and children will be delighted with such an original gift. The durable materials used in the box of paint brush markers extend the life of the set and protect your brush tip paint markers from dust and moisture.
Multi-surface acrylic markers. These brush markers are non-toxic, water resistant and provide strong coverage. For the production of these paint brush markers, we use non-toxic, acid-free material. Paint brush pens are made exclusively from certified and safe materials that do not contain toxins and are free from acid. Thus, the use of our brush tip paint markers will protect your artwork from oxidation and fading.
Colors included: multicolor paint brush markers
Pen Tip: Brush (1-3 mm)
Ink Base: Acrylic
Ink Color: Multicolor
Number of Pieces: 16
Suitable for: Black paper, Cardstock, Rock, Pottery, Plastic, Fabric, Metal, Treated wood, Ceramic, Glass
Customer Reviews
Really cool markers
I love using these markers. So much easier than using straight acrylics. No mess no fuss. Just take off the cap and start painting. The only thing wrong with these is they don't come in tons of different colors. But if they did, I'd buy them!
04/03/2022
Lisa L.

United States
Great brush pens!
Very opaque colors. Very flexible tip. Not a real brush tip. Great markers, easy to use. Fast shipping. Will buy again.
02/16/2022
Isabelle D.

United States
Best Product Ever!
Love, love, love their products! The paint pens work great and I am happy at how affordable they are as well!
01/18/2022
Philippe M.

Canada
Absolutely adore
Used these on brown wrapping paper for Christmas gifts. What a hit!
01/17/2022
Kim K.

United States
Great product that is enhanced by the website!!
This was a gift for my teenage niece. After seeing the websight and all it had to offer, I also purchased a gift card. Wonderful how-to's on line with other great products!