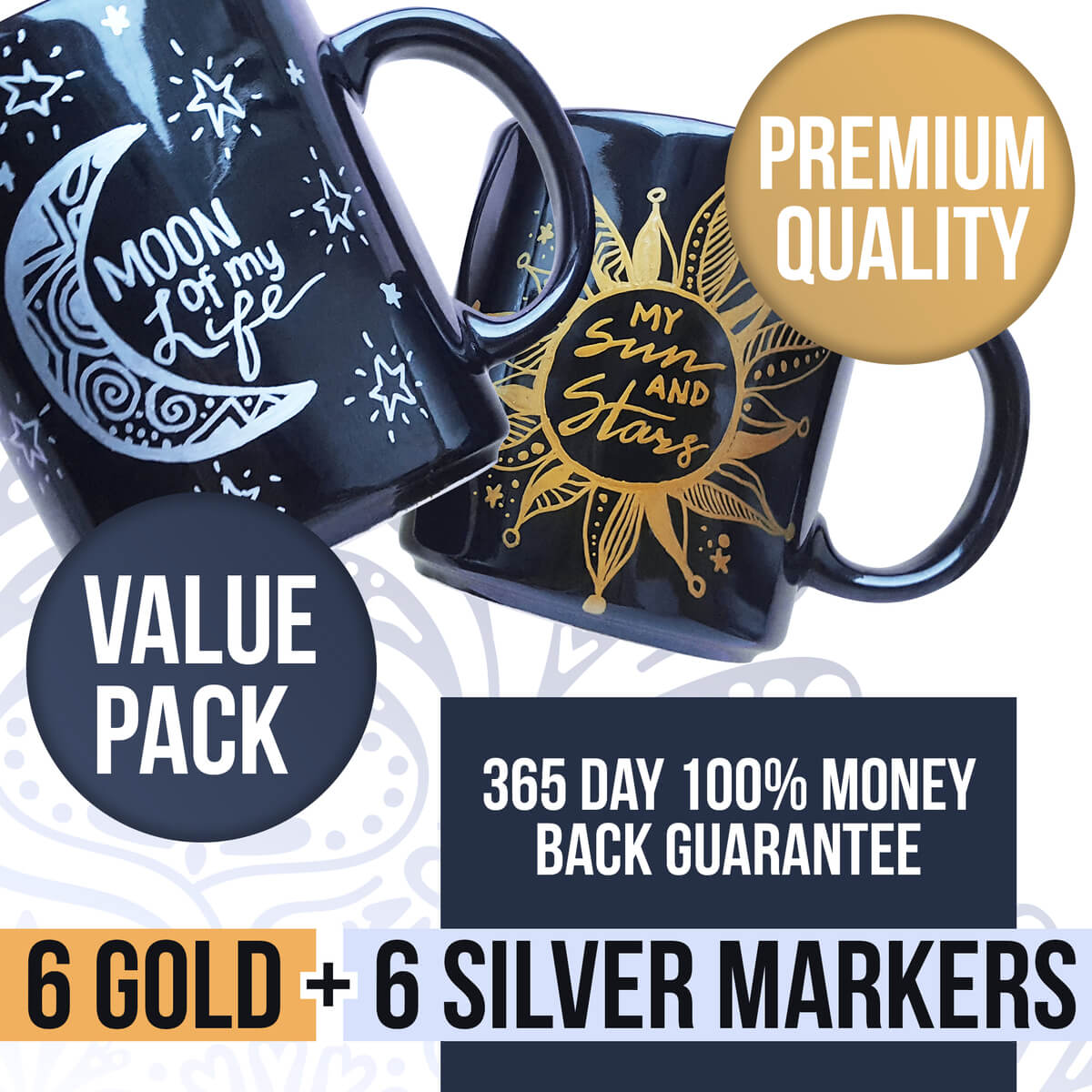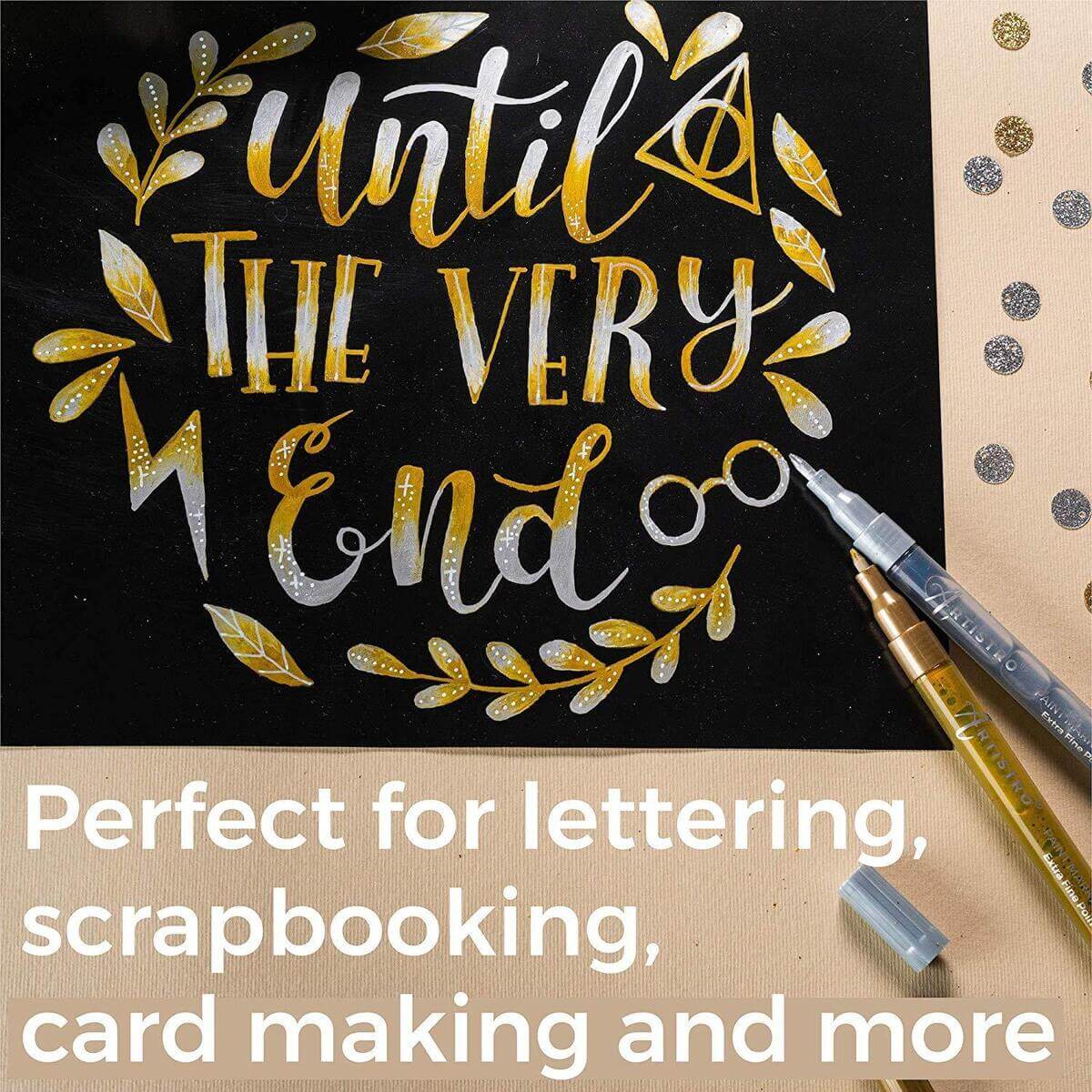 Extra Fine Tip Oil Based silver paint marker & gold- Set of 12 silver paint pens
12 extra fine silver ink pens & gold

Waterproof silver fabric markers. With our silver paint pen, we offer you an improved permanent ink formula that will allow you to create long-lasting masterpieces. These silver paint marker and gold paint markers are resistant to water, which guarantees a long life of your artwork and allows you to work with our silver fabric markers even on special surfaces such as ceramics or shoes. Using this silver paint marker, you can enjoy custom cups without worrying that your design will fade with the touch of water.
Create magic in gold and silver paint pen. We have created this compact set of gold and silver ink pens for metal specifically to give you the opportunity to create unique projects, framed by a magical confetti in gold and silver fabric markers. This gold & silver paint marker set includes 6 magical gold markers and 6 sparkling silver paint pens for your convenience.
Proven quality. We are constantly improving our ink formula and the reservoir design of our gold & silver ink pens to make sure you get the best quality. This silver paint pen set, like any of our products, ensures you get quality tools for work and leisure.
Multipurpose silver fabric markers. Our unique permanent silver paint marker and gold paint markers work not only on traditional surfaces, but also allow you to create your designs on many other art surfaces. Check out the full list of available art surfaces on the packaging of silver paint pen and experiment to discover new creative possibilities with our silver ink pens for metal.
Colors included: silver paint pen & gold

Pen Tip: Extra Fine (0.7 mm)
Ink Base: Oil
Ink Color: Gold & Silver
Number of Pieces: 12
Suitable for: Rocks, Glass, Ceramic, Porcelain, Metal, Rubber, Stone, Paper, Smooth Wood
Customer Reviews
Write a Review
Ask a Question
01/24/2022
Juan D.

Canada
01/11/2022
Flintstone

United States
Bright at first
I used these on the numbers of an antique clock. Looked great at first, and then they just faded. Plus, it took three pens to finish twelve numbers. Not sure if anyone else had this problem, but I will probably use a different company when I attempt to repaint the numbers.
12/15/2021
Sawyer J.

United States
A little messy
There was a foam ring around the tip and no instructions as to whether it should be removed or not. I used the pen to write the names of my grandchildren on vintage felt stockings. I practiced first on paper as instructed. The pen went dry after a few letters and when pumping it for more ink (on paper) it often created puddles. But I was able to finish the project.
11/17/2021
Norma T.

United States
Love these
I like that the ink is permanent, just be careful not to shake them too hard cause you'll get pain spatter. I wish there we more different colors
10/23/2021
Cynthia

Canada
J'adore!
Facile a utiliser et belle couleur métallique.
6 GOLD + 6 SILVER PERMANENT COLORS