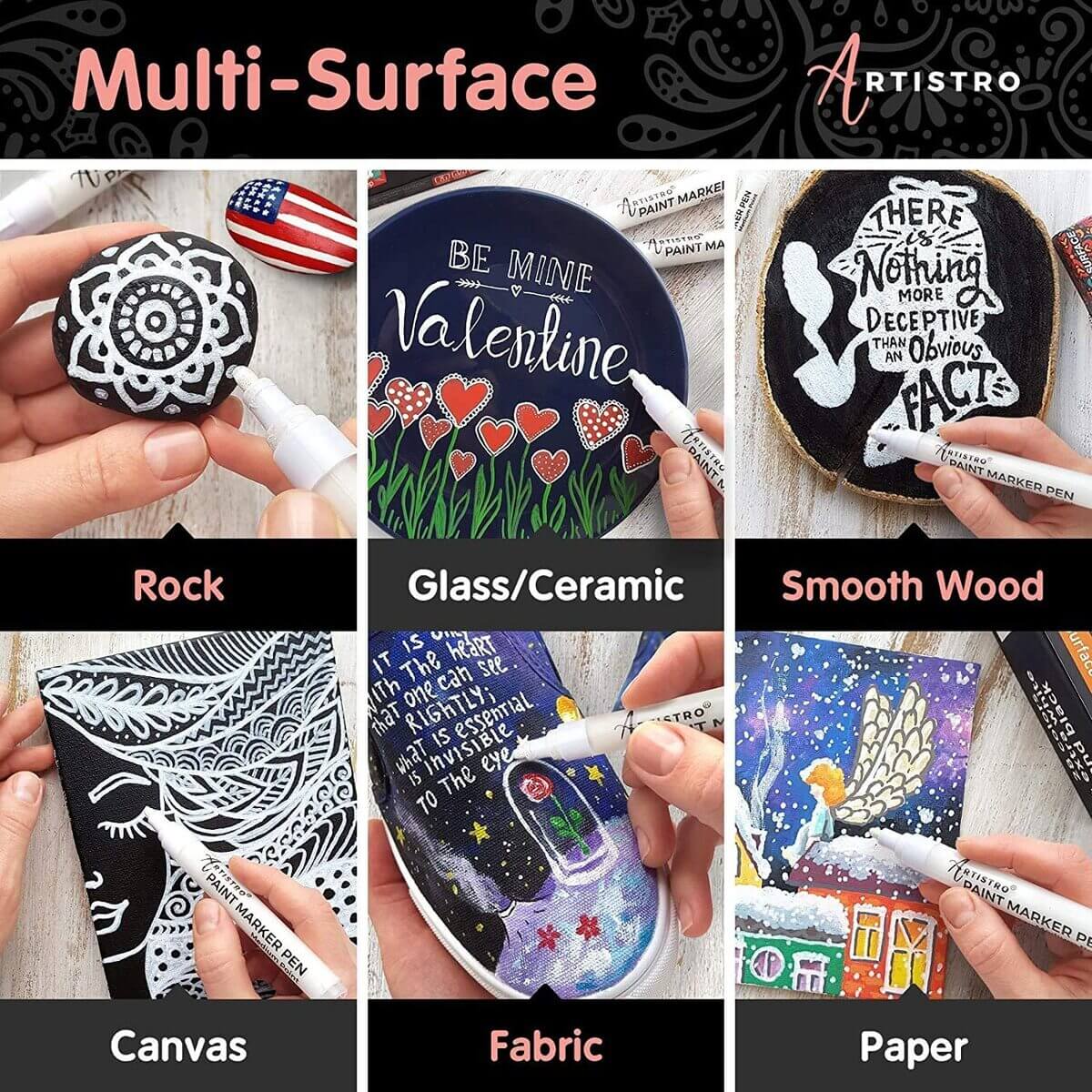 Medium Tip white acrylic paint pen - Set of 12 white acrylic paint markers
12 MEDIUM white acrylic paint pen

Double set of white acrylic paint pen. We created this set especially for lovers of black and dark surfaces, as well as for those who like to create monochromatic projects. Try this set to stop spending white acrylic pen scantily and create freely.
Professional best white marker. All Artistro products are created using high quality foreign materials, which guarantees the excellent quality for our white acrylic paint pen. These best white marker are suitable for both professionals and art hobbyists.
Intense white color. This white acrylic pen guarantees high-quality and even ink application from the first layer. You get a bright and glossy color the first time you apply the white acrylic pen, saving you money on white acrylic paint pen. Experience the amazing glossy effect of these best white marker on dark surfaces and see for yourself.
Create on new surfaces. If you're tired of boring projects, this white acrylic pen is just what you need. Create a new dazzling project on a black surface using our best white marker. Draw on textiles, stones, shoes, tea sets, cutlery and other original surfaces with our white acrylic paint pen.
Colors included: acrylic paint pen white
Pen Tip: Medium (2-3 mm)
Ink Base: Acrylic
Ink Color: White
Number of Pieces: 12
Suitable for: Rocks, Glass, Ceramic, Porcelain, Metal, Fabric, Stone, Paper, Smooth Wood
Customer Reviews
Write a Review
Ask a Question
Útil
Me va perfecto para escribir y rotular en cristal
Highly recommend
Great for edging acrylic painting on canvas. Very effective, good flow, excellent adherence. I am very impressed.
Lacknachlauf lässt manchmal zu wünschen übrig, sonst in ordnung!
Relativ schmale linien, perfekt für genaue übertragung von bohrschablonen
Soddisfazione massima!
Ho preso questi pennarelli per le maestre della scuola materna per far disegnare I bambini alle finestre e mi hanno fermata il giorno dopo per dirmi che erano molto meglio di quelli di marca! La scrittura è molto morbida e si ricarica subito, si sono scritte la marca perché sicuramente ne ordineranno altri e per consigliarli! Che dire li consiglio!
SUPER WHITE: 12 MEDIUM PENS