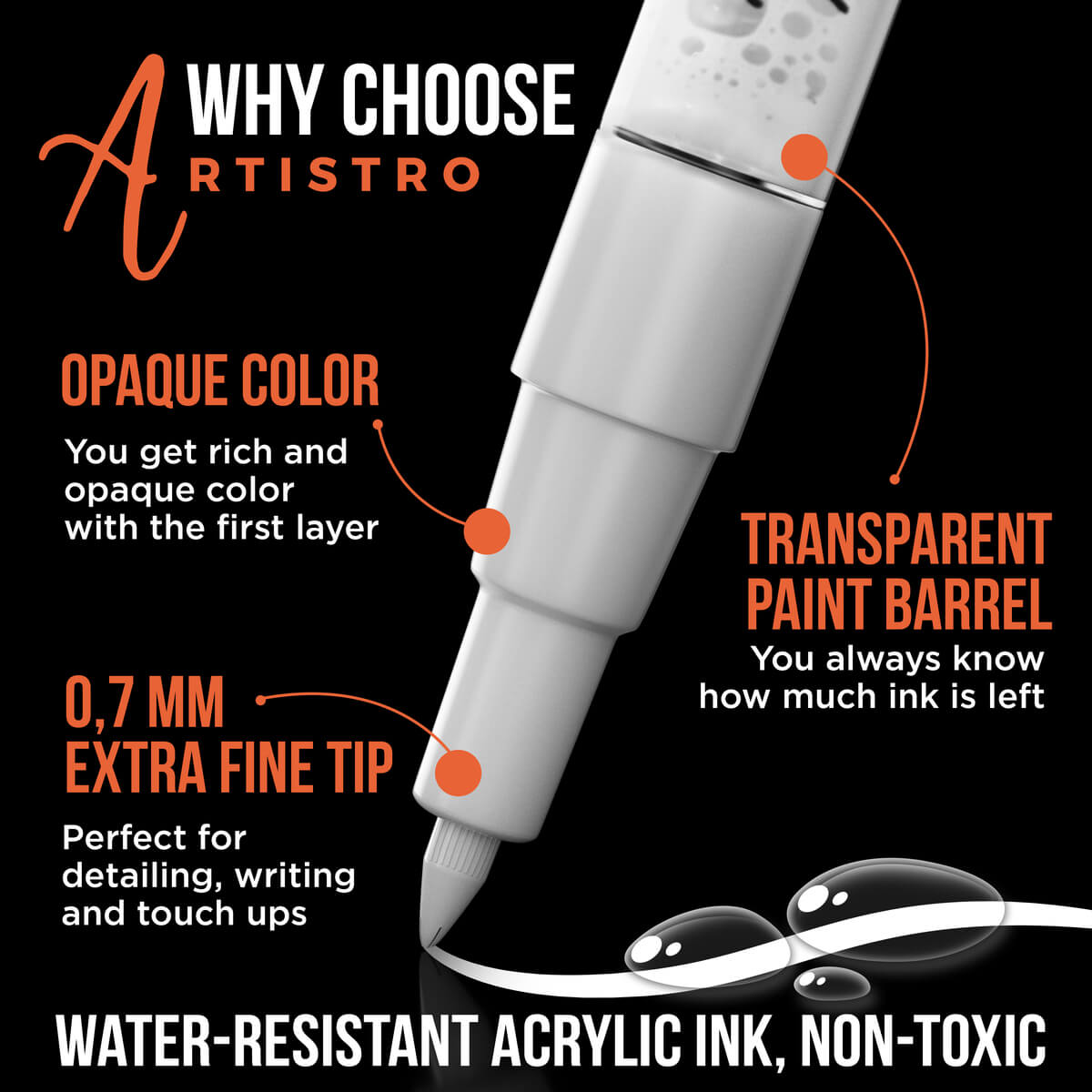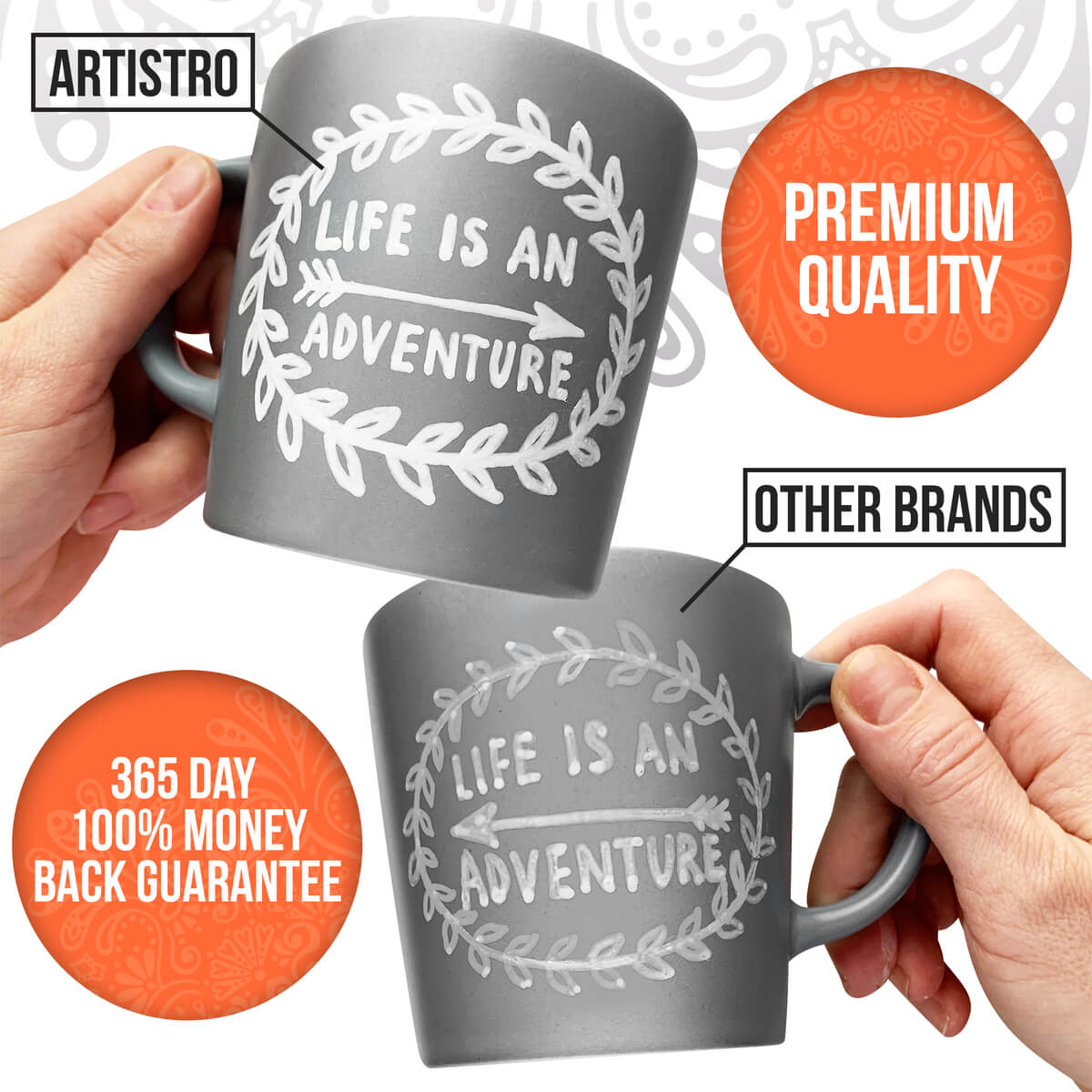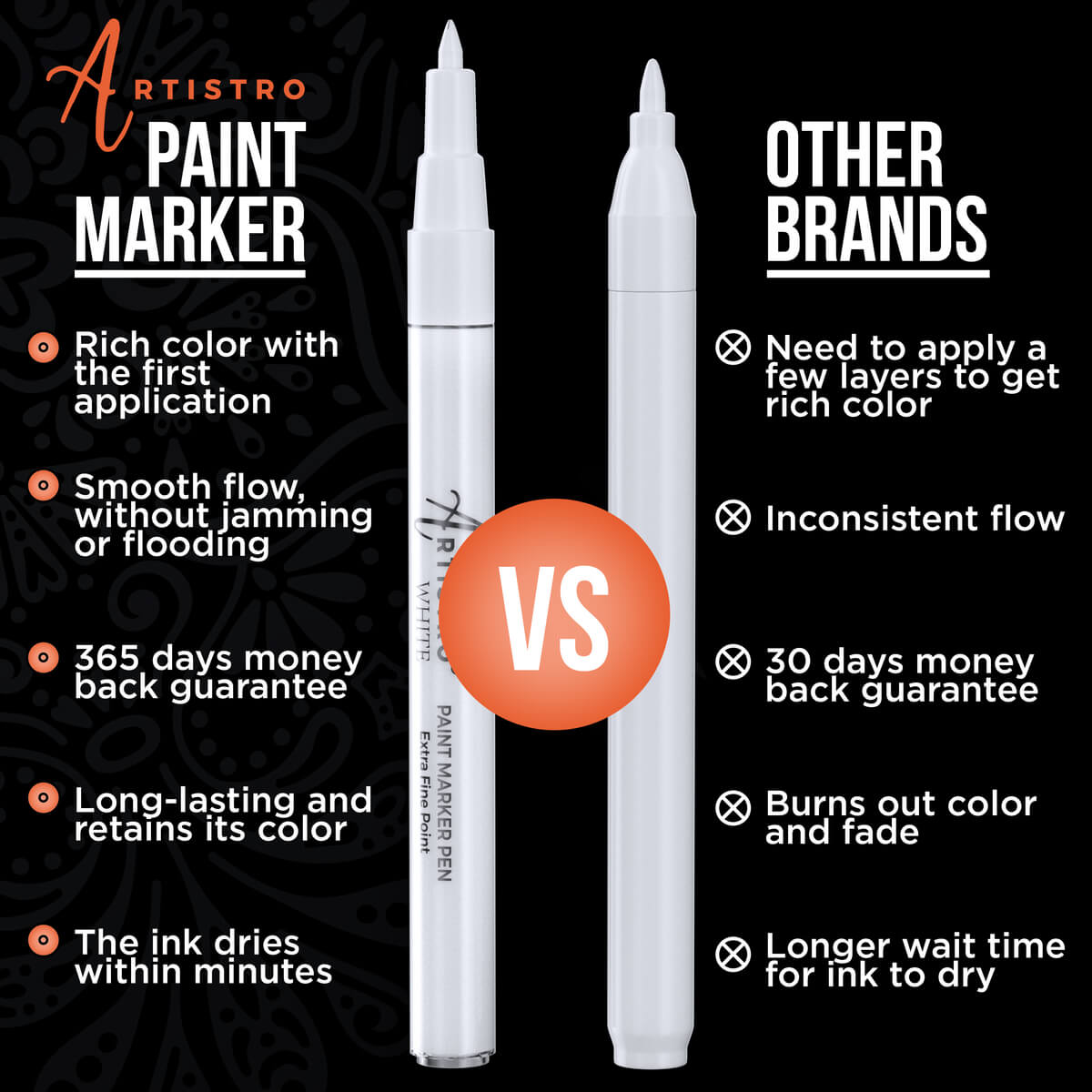 Artistro White Paint Pens, Extra-Fine Tip, Set of 5 White Markers
5 extra fine white paint pens
Quick dry white marker. Thanks to a special improved formula, our white paint marker dries in a few minutes. This ensures that your design doesn't get messed up, smudged, or spread over the surface as you work. In addition, our white paint pen allows you to create unique projects in special techniques that require layering different paints or working with modeling paste.
Basic set of white marker. Try this compact white paint marker set in one of the essential colors to make sure the white paint marker tools are the ones you need. By purchasing a set of white marker instruments, you no longer have to monitor the amount of white ink constantly and look for workarounds to create light shades. Create monochrome works without limits with this white paint pen set!
Amazing artworks on the black surface. White paint marker allows you to create the most daring designs on dark surfaces and experiment with shades of other colored markers. Thus, white paint pen will not only expand your usual color palette, but also help to conquer hard-to-reach dark surfaces.
Safe use of the white paint pen. Because we care about the health and well-being of our customers, we have created our white paint marker instruments in accordance with ASTM D-4236 standards. Be sure to read the instructions before allowing your preschool kids to work with the white marker set.
Colors included: White paint pen
UPC: 742033966839
Pen Tip: Extra Fine (0.7 mm)
Ink Base: Acrylic
Ink Color: White
Number of Pieces: 5
Suitable for: Rocks, Glass, Ceramic, Porcelain, Metal, Rubber, Stone, Paper, Smooth Wood
Customer Reviews
02/02/2023
Barbara L.

United States
Doesn't work
I was disappointed because they are water based and I didn't realize it when I ordered it to replace the oil-based one that I used up.
09/02/2022
Anonymous

United States
Pens are a huge hit with me!
I love your product line. They cover so well over rocks I'm painting on.
03/03/2022
Bonnie K.

United States
Fun pens
Have not gotten to use them much but they are great when I used the.
01/23/2022
Georgiagran

United States
Works great
Love this product!
01/17/2022
Jane H.

United States
SUPER WHITE: 5 EXTRA FINE PENS