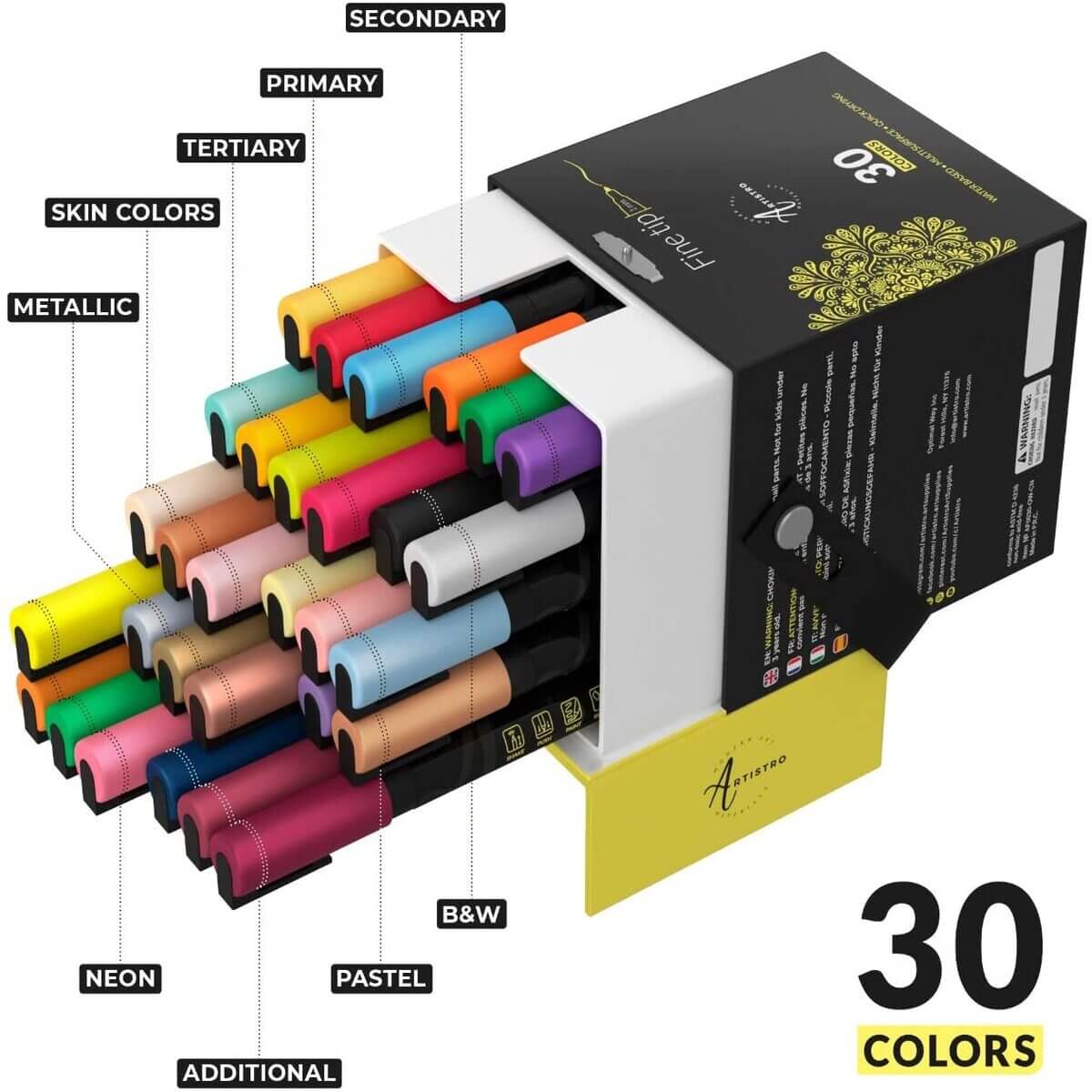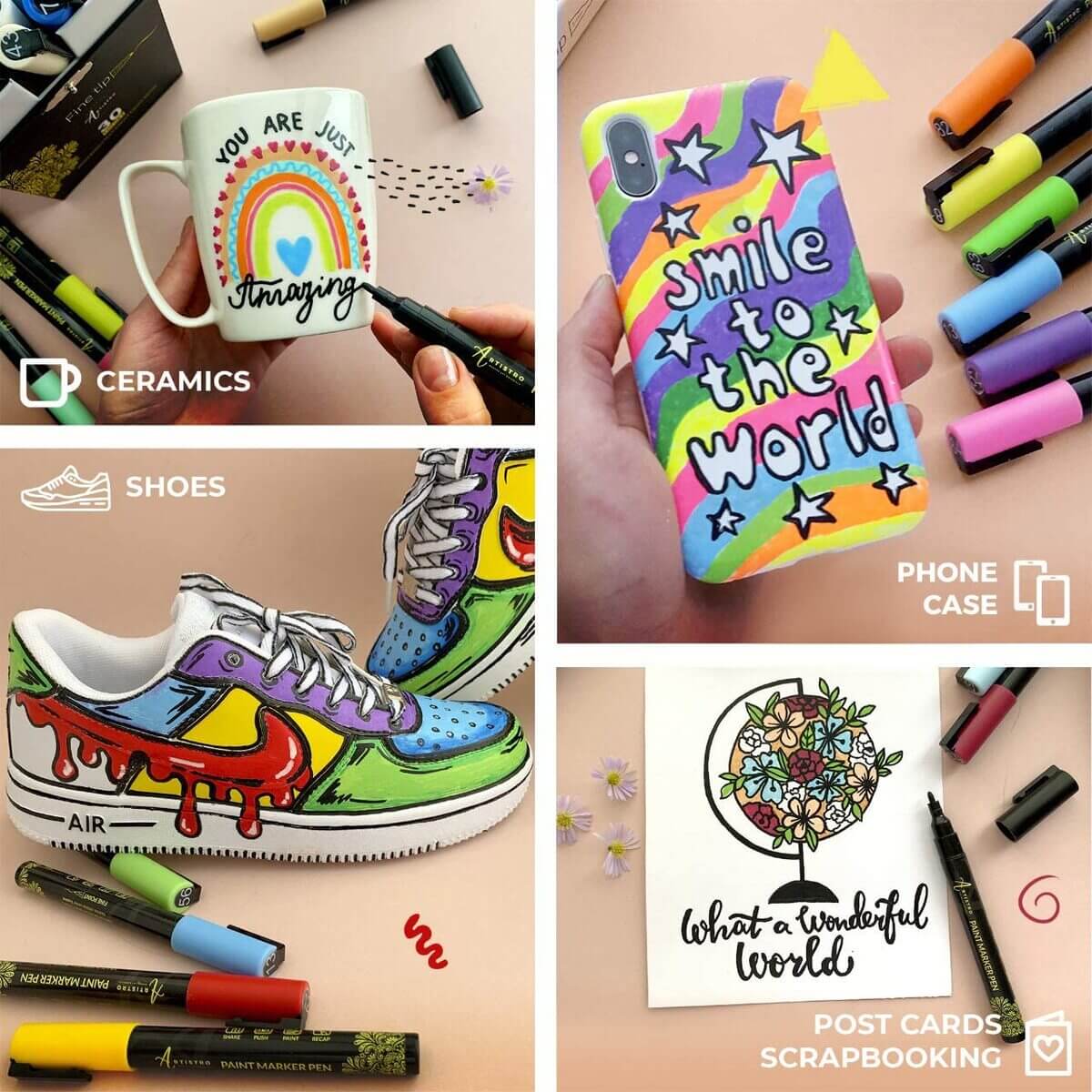 Artistro Acrylic Paint Pens For Fabric, Glass, Fine Tip, 30 colored paint markers
30 FINE MULTICOLOR acrylic ink pens
Multitask art tool. The permanent acrylic painter pens are used in many areas from industrial to artistic needs. High-quality Artistro acrylic art pens are the great choice for everyday work in the office, in factories, at home, and your creative leisure!
Limitless creativity. Acrylic ink pens are great for writing on many surfaces, a complete list of which you can find on the product packaging. Since acrylic art pens are water-based, they perform very well when diluted with water.
Universal acrylic painter pens. The perfectly balanced tip is the business card of every acrylic ink pen. This gives you perfect control over the drawing process: you can control the acrylic painter pens, its pressure, and monitor the perfect ink flow in any situation. Please note that due to their sharpness, acrylic art pens are not recommended for use on delicate surfaces, for example, such as fabric or canvas. In this case, it is recommended to use other types of our art markers set, with other markings, rather than acrylic ink pens.
Precise ink control. Convenient labeling and intuitive marking of the acrylic painter pens allows you to switch between the color palette of the acrylic ink pens quickly, while the transparent reservoir allows you to control the amount of ink used in the acrylic art pens accurately.
Colors included: multicolor fine point paint pen
UPC: 742033967102
Pen Tip: Fine (1 mm)
Ink Base: Acrylic
Ink Color: Multicolor
Number of Pieces: 30
Suitable for: Rocks, Stone, Metal, Pottery, Treated smooth wood, Plastic, Canvas, Fabric, Paper, Leather, Cardstock, Terra-cotta, Polymer clay
Customer Reviews
Write a Review
Ask a Question
Not bad for the price.
Not bad for the price, really enjoy having so many colours in one pack. The colours are definitely a little more sheer than posca. Some markers need a lot of shaking to get the full opacity out of them; initial use of many of the markers had them come out very watery - especially the silver colour.
Ottima presentazione
Pennarelli veramente ottimi e ben fatti. Lasciano una posa perfetta e uniforma sulla carta o su altri materiali. Li abbiamo usati sulla plastica, vetro, jeans, cartone, legno. Ogni volta abbiamo ottenuto sempre dei colori vivaci e brillanti. La marca anche se sconosciuta replica perfettamnte il prodotto più blasonato in commercio ma dal costo esorbitante. In poche parole è inutile comprare pennarelli unipos. A, costano parecchio , di marca diveresa, a prezzi decisamente molto più abbordabili e dalla resa fantastica.
Ottimi colori indelebili ottimo prezzo
Ottimi colori indelebili ottimo il prezzo
Bellissima varietà di colori. utilissima la doppia punta! consiglio!!!
La norbidezza e la gamma di colori.
Plutôt pas mal
Habituée des feutres de marques connues, j'ai hésité mais je ne suis finalement pas déçue. Achetés pour que ma fille arrête de ruiner les miens qui sont de marque, elle en est ravie et ils sont de bonne qualité.
22 ASSORTED + 5 PASTEL + 3 METALLIC COLORS
I started using these in my other drawings, new colors to expand my color palettes!
@angelaccpan